COMPANY PROFILE
Dear Sirs,I, Koichi Shimizu became president of WING CORPORATION
on August 1.
CEO, Mr. Takahashi is still working with me as a super adviser.
Our head office moved to Tomakomai city.
I will let you know our new bank account when it is available.
I will do my best to keep good and long term relationship.
Thank you very much for your time and attention.
Best regards,
Koichi Shimizu
WING CORPORATION
Phone : +81-144-51-5557
Fax : +81-144-56-2345
H/P : +81-803234009
SKYPE : wing_koichi
E-Mail : koichi@tyre.co.jp
BLOG : Wing Corporation BLOG
http://www.tyres.co.jp/
The mother company ( Sanko Sangyo Co. Ltd. ) was established on October 21, 1986 as limited liability company.
On 1, 1994October, the company expanded and company status changed to joint-stock company. Wing Corporation is established and financed 100% by Sanko Sangyo Co., Ltd. to be it`s
subsidiary export department.
The founder Mr. Shigeki Takahashi serves as the president of both Sanko Sangyo Co., Ltd. and Wing Corporation.
Tomakomai Main Office & Yard
145-142, Aza Yufutsu, Tomakomai, Hokkaido, Japan
059-1372
Obihiro Office
18 Odori Minami 16-Chome, Obihiro, Hokkaido, Japan
080-0010
SANKO SANGYO
Official Licensed : Industrial Waste Collector & Transporter
License Number : 0110021201 (by Hokkaido Governer)
License Number : 5100021201 (by Sapporo City)
License Number : 5200021201 (by Hakodake City)
License Number : 5300021201 (by Otaru City)
Registration : Japan shippers & Consignees Standard Cord
(Foundation/Japan Association for Simplication of International
Trade Procedures)
Code Number 77826 — Sanko Sangyo
Code Number 83457 — Wing Corporation
Tire Chip Factory ( in OBIHIRO )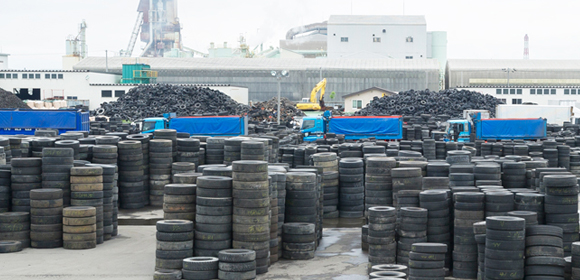 JAPANESE SITE
TAKAHASHI SHOJI
Official Licensed : Industrial Waste Collector & Transporter
License Number : 0100027003 (by Hokkaido Governer)
Official Licensed : Midway Wast Tire Disposer
License Number : 0120027003 (by Hokkaido Governer)
TIRE & WHEEL "TAKAHASHI"

TIRE SHOP "ORANGE"
New & Used Tires (Domestic/Imported)— SALE/PURCHASE
New & Used Wheel (Normal/Alloy)
Passenger/Light Truck/Heavy Truck/Forklift/Tractor